Here we are in France! It was a very long flight. However, it's pretty cool to leave from Salt Lake City and 10 hours later land in Paris!! Upon arriving to Paris we navigated through the airport just arriving at our gate to hop on a short Air France hour flight to Nantes. Then a 2 hour chartered bus ride to La Rochelle. This is beautiful town that sits on the water. Last night we had a delicious but expensive meal out. I tried some very fresh white fish, a goat cheese and honey salad, and caramel mousse for dessert. This morning some of us went for a jog along the water and it was perfect. I love going to grocery stores especially in Europe! I got some of my favorites today like laughing cow bites and chestnut spread. Chevre (goat cheese) potato chips anyone?
The grocery store is the Monoprix and is kind of like a grocery store/department store. Groceries on one floor and clothes/housewares on another. I found prepared quinoa with raisins, hazelnuts, and almonds. Yum! Some applesauce, with strawberries and carrots in squeeze bottles. My chips and cheese and then small snack crackers with Chevre and pepper. I had to get strawberries because last time in France I tasted the best strawberries of my life in Provence.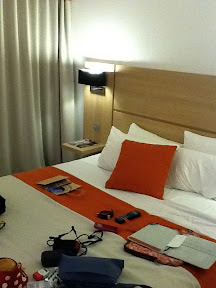 The hotel is very nice and clean. It is right across form the theatre and steps to the water.
I love in Europe hotels how they have electric kettles in most rooms. It's great for tea, instant coffee, soup right in your room. Save you money and time. Well, that's all for now. More to come later! This was our day off. We have 2 shows a day for tomorrow and Friday!
Location:La Rochelle, France