Sorry I've been so out of the blogging and Internet world. After we left Paris, we went to Bordeaux, which I love as a city. I drank some lovely wine and had great food. Then it was off to Sète which is a beautiful town on the Mediterranean sea. Let's just say we had some days off on the beach and I have color on my pale skin I didn't know was possible! Then we went to the Brittany/Normandy region to St. Brieuc, and yesterday took a 7hour bus ride to Lille which is our current destination. I'll post some pics with this post but unfortunately, I bought a camera adapter for my iPad that doesn't work. So you all will have to wait to get a travel report of the best of my France tour when I get home! The food has been pretty wonderful....however I'm getting a little tired of bread!
Missing my own kitchen and cooking and getting a little tired of hotel rooms...and not having wifi in the rooms. But I can't complain! The audiences and shows have been amazing, especially the matinees for the French children. Such a joy to perform for their laughs! I have the best job really....or I feel very fortunate to get paid to travel abroad and on top of that do what I love! Enjoy the pics and I'll try to post some more later!
In Paris at the Citadine apartment hotel. So nice to have a kitchen! Microwave pasta and green salad with laughing cow cheese wedges.
Beautiful flowers from our directors Tito and touring manager Jena!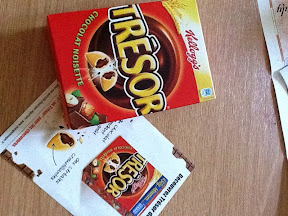 A freebie! I love my freebies and a French freebie is even cooler. These were like a corn cereal filled with nutella!
My breakfast: organic muesli with yogurt, prunes, and almonds. Plus my coffee!!
Dinner after a show: wine with a green salad mixed with boccini mozzarella, tomatoes, and crackers.
These microwave barley packages are a yummy, wish we had them in the states. I added mozzarella which made it even better!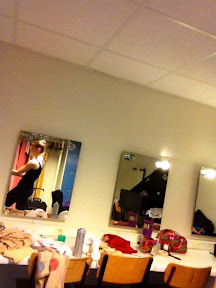 The dressing room at the Paris bastille opera theatre.
The costumes for the Paris show.
My dressing table.
The Alwin Nikolais women!
The stage which was a fun challenge to make work!
Here are the straps hanging for tensile!
After the show, we found a fun place with fresh juice drinks. Mine was blood orange something.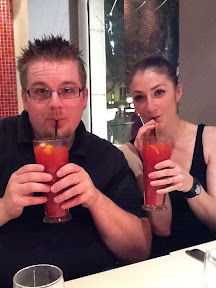 Cliff our technical director enjoying the blood orange too.
My dinner, yeah the potato wedges were good!
Pictures from mechanical organ taken at the Paris theatre.
Pictures from Crucible
Au revoir! More to come later !
Posted using BlogPress from my iPad
Location:Bordeaux, Sete, St. Brieuc, Lille